---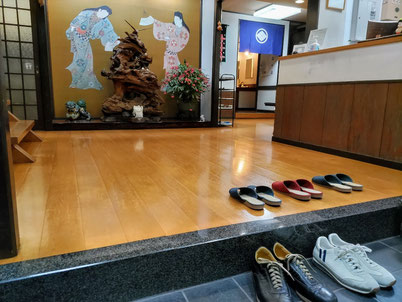 Upon Reaching the RYOKAN
Take your shoes off just as walk in the entrance and put on the slippers.
The slippers are used for walking inside the Ryokan on the corridor, lobby, dining, hall and to the common bathroom.
---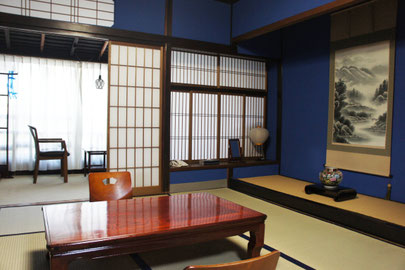 Inside the Room
When you open the door to your room take off your slippers before getting on to the Tatami (straw mat floor).
Do not walk on the Tatami with your slippers.
The Tatami is always tread upon barefoot or with your socks on and you can squat down or just lie down on it.
Yukata (robe) is provided for each person.
Use this as a robe as well as a pajama and you can go out of your room in the Yukata.
During cold periods there is a Tanzen (outer robe) to wear over the Yukata.
Always wear the Tanzen over the Yukata.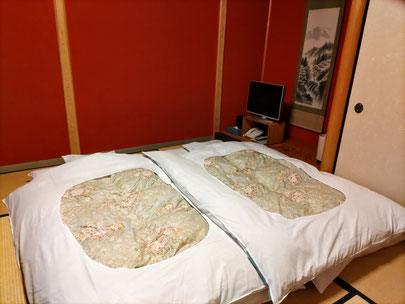 Japanese beds consist of futon (Japanese mattresses) laid directly on the tatami floor. 
The futon will not be laid out when you first enter the room. 
Instead, they are kept in the closet, after dinner or during go out for dinner, our staff prepare them.
If you would like to rest after check out , we are happy to prepare your bed earlier.
---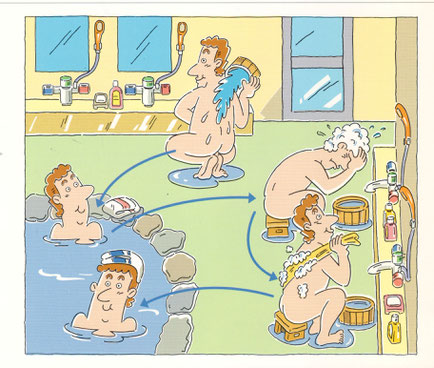 How to Use the Bath
We have 2 shared bathroom for men and for women.
It's helpful to know how to take a Japanese-style bath.
Please enjoy Japanese style bath !
Below are basic tips.
Please take off your underwear before you go into the bathing area.
Cleanse your body with soap outside the bath tub before getting into the bathtub. (Please sit down while taking a shower)
Keep your towel out of the bathtub.
Please do not unplug the drain in the tub when getting out.
Please wipe yourself off before going into the dressing area.